Movie Review: Rogue One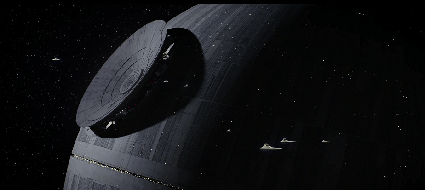 Rogue One: A Star Wars Story
2016
[spoilers]


Rogue One is the backstory behind the very first episode of Star Wars ever produced (which is now chronologically number 4 in the unendingly profitable Star Wars series of movies). In this movie we learn how the rebel alliance managed to get a copy of the blueprints for the Death Star, a critical piece of information used to destroy that weapon. This movie is an impressive example of how well-funded elements of capitalist culture can spend millions of dollars in order to make a profit off of entertainment: the estimated budget was $200,000,000. Imagine what could have been done with those resources in a system guided by peoples' need instead of profit.

For this money we get a story that has some progressive elements but also many questionable and reactionary messages. Rogue One is about the rebel alliance's fight against the Empire. This could be a great anti-imperialist analogy. And there are some solid themes of revolutionary sacrifice and the oppressed coming together to fight a common enemy in a united front. But in the end it is individualism that wins, as of course that makes for a more exciting story in our culture.

This episode is a fairly satisfactory effort to stitch together episode 3 and episode 4, and provides us with a better explanation for why the Death Star could be completely destroyed with one good shot. The saboteur behind this weakness gives us one of the many examples of revolutionary sacrifice in this movie. It also offers an example of how resistance is possible from someone who is forced into a situation where there seems to be no resistance. While this character is depicted as having unique skills, eir course of action serves as a good example of the existentialist axiom that we always have a choice. This may serve as inspiration for those in the imperialist countries surrounded by class enemies, or those in isolation cells with no contact with the outside world but occasional letters.

While revolutionary sacrifice is a strong theme with many characters in the Rebellion, this message is not inherently anti-imperialist as it will likely reinforce those fighting for U.$. empire who believe what they are doing is good. The Empire in the movie, rather than being an example of the evils of imperialism, continues to come across as a caricature of what Amerika thinks of communism. Everyone wears the same uniform and is forced to work for the military dominance of the world under the leadership of one egotistical leader. But for those with a revolutionary mindset, we can pretend this was meant to represent the imperialist empire, and root for the Rebellion and honor their sacrifices.

There is a group that resembles Arab militants who have taken up focoism against the Empire, and who the Rebel Alliance grudgingly wants to work with. In some ways this is better than the average portrayal of Arab peoples in Hollywood movies, where they are often just the terrorists. But in this case they come across as not smart enough to participate in a united battle, just doing what their leader directs, in random focoist attacks. Still a rather stereotypical picture.

The Alliance itself appears to be a united front of various species from around the universe who are working together to defeat the Empire. This could be seen to parallel the united front of oppressed nations that will be necessary to take down U.$. imperialism. In humyn history we have strong examples of united fronts within nations, such as China. But the multinational united front and the joint dictatorship of the proletariat that will likely be necessary after defeating U.$. imperialism are things that we have little experience with. Fred Hampton's Rainbow Coalition in Chicago was an early form of such a united front, but it was repressed before an anti-imperialist war could emerge.

The movie uses this united front to promote ultra-leftism and individualist acts of desperation. When they get bogged down in fighting over whether or not they should take military action or run and hide, a small group of fighters take independent action because they don't know anything but war. These are the brave heroes of the movie. The main disagreement within the united front was over whether or not it was possible to win in a fight against the Death Star. This debate over tactics could have been a good lesson in struggle and unity, perhaps greater gathering of information and a testing of various tactics to learn from practice. Instead there was a short verbal fight and then a decision that no action could be taken because of all the disagreement, portraying the united front as futile.

Rogue One did feature more female characters than the average Hollywood movie, but the main characters were born into their roles, rather than rising up to take positions out of conviction and hard work. While the lead male characters overcame great hardship, or fought against persynal circumstances, to take up the rebel struggle. And still the vast majority of the characters seen in the movie are male, an odd feature for a society so far in the future. Clearly the patriarchy still dominates in Star Wars.

Star Wars movies all feature reference to "The Force" to greater or lesser degrees. In this storyline The Force is basically turned into a religion, practiced only by one Asian man who blindly guards the temple (literally, he is blind). This man's blind faith (it's not very subtle) becomes an important part of the rebel fight. And at one point this faith saves the day, again promoting a sort of ultra-leftism.

With all of these failings, MIM(Prisons) can't recommend Rogue One for anything more than critical analysis.