MIM(Prisons) on U.S. Prison Economy
[edited for language and spelling - 12 January 2018]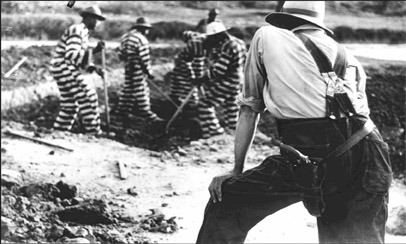 Issue 8 of Under Lock and Key takes on the topic of Amerikan prison economics and prisoner labor. Prisons in the United $tates are funded by the states and the federal government, and they are quite expensive. The United $tates spends about $60 billion a year to house over 2.3 million prisoners and yet, as readers of Under Lock and Key well know, these expenditures result in no reduction in crime rates. Instead this is the high price tag for the most elaborate prison system of social control in the world.
Prisoners are useful as workers because they can be paid very low wages or none at all, they are always available and can be employed when needed without the difficulty of having to lay off workers in downturns, and they are literally a captive workforce who can be punished if they refuse to work. In many respects prisoners are similar to migrant workers who take the jobs that Amerikan citizens don't want except that migrant workers are at least free to move on or go home at night or pick between jobs.
There are many aspects to the topic of prison economics and prisoner labor, but they all tie back to the question of who is making money off all the prisoners who work for free or for very little money, and the bigger question of whether there is profit to be made off prisons in general. The main position that we challenged in ULK 2 was that the prison boom is motivated by a system of modern day slavery that is exploiting the masses through forced labor. In this issue we will further demonstrate that exploitation in prisons is not a source of private profit and discuss how profiteering on mass incarceration really evolved.
Profiteering Follows Policy
The importance of our point that prisoners are not generally exploited for economic profit is in understanding the real motive force behind the U.$. prison boom. Fundamentally, prisons are a money losing operation. It costs more money to run prisons than is generated from prisoner labor or any other aspect of the "industry." If prison labor was a gold mine for private profiteers, then we would see corporations of all sorts leading the drive for more prisons. On the contrary, though the fifth largest prison system in the United $tates is the private Corrections Corporation of America (CCA),(1) the government still runs over 95% of the prisons overall.(2) So if Amerikans didn't build the largest prison system in the history of humynkind for slave labor profits, then why did they do it?
As a parallel example, consider the war-profiteering of Halliburton and KBR through the military industrial complex; it was the government who started wars, and then the contractors appeared. In fact, the stories of most of these contractors start with people with political connections, not with any particular interest or knowledge of the product or service in demand.(3) War was created for the overall economic benefit of the imperialist system, but not by the companies that most directly profited. Once the profits start flowing, the intertwining of interests between politicians and their private benefactors creates conflicts between the imperialist interests abroad and those who are just trying to make a quick buck. Hence, we see some backlash against Halliburton and, their former subsidiary, KBR's corruption within the White House and the Senate (including the Senate hearing on May 4, 2009).
Similarly, the prison boom originated in government policy, and then new companies formed to profiteer, or in the case of telephone and commissary, old companies adapted their product to a specific opportunity. Prisons serve U.$. imperialism in controlling the local population, while placating the demands of the oppressor nation as a whole. Only now, with the emergence of mass incarceration, the demands of Amerikans for more prisons are more economically oriented, rather than just social. And most of that economic interest is among state employees and unions, not private corporations.
In Ohio, the Department of Corrections had to go to the state Supreme Court in order to close prisons over the protests of the guard union.(4) The California Correctional Peace Officers Association, notorious for being the strongest in the country, has applied similar pressures preventing the state from cutting anything from the CDCR budget except for education programs in recent years.
Private industries are making lots of money off prisons. From AT&T charging outrageous rates for prisoners to talk to their families, to the food companies that supply cheap (often inedible) food to prisons, to the private prison companies themselves, there is clearly a lot of money to be made. But these companies' profits are coming from the States' tax money, a mere shuffling of funds within the imperialist economy. Some companies like AT&T or some of the prison package services are selling goods or services directly to prisoners at drastically increased prices from what you'd get on the street. But even then, they are not exploiting the prisoners' labor, they are merely extorting their money. The private prisons are the only example where prison labor that is used to run the prisons may come into play in determining corporate profits.
Some activists see opportunity in the current capitalist crisis; perhaps states will be forced to listen to arguments claiming that prisons are a money pit for tax funds. However, Governor Quinn of Illinois responded to the crisis in his state last month by canceling plans of the previous governor to close Pontiac Correctional Center, citing "fiscal responsibility" and the protection of 600 local jobs and $55.4 million in local revenue.(5) Pennsylvania is continuing down its path of prison expansion with plans for 8,000 more beds in the next 4 years for the same reasons.(6)
These governments could generate jobs and revenue in countless ways. The reason that prison guards are generally funded over teachers is initially a question of the government's goals and priorities. While there is much public pressure to fund schools over jails, this battle is one for the labor aristocracy's unions to fight out. Revolutionaries have no significant role to play in such debates. We can combat national oppression with institutions of the oppressed, not by more jobs for Amerikans in one government sector or the other.
Meanwhile, the capitalist will invest in operations based on where the funding goes, so it is not really the evil corporations that are directly to blame for the U.$. prison boom. The government decides whether prisons are built. The U.$. government serves the overall interests of the imperialist class first and then must answer to its Amerikan constituency. It is the combination of these two interests that have led to the largest mass-incarceration in history. Currently, the strategy to dismantle this massive humyn experiment must recognize these two forces as the opposition, and then mobilize forces that have an interest in countering both imperialism and Amerikanism.
Prisoner Labor
After publishing an article entitled Amerikans: Oppressing for a Living, we received some criticisms from comrades of our position that corporations are not profiting from prison labor in a significant way. We then made a call to our correspondents on the ground across the United $tates to research this issue further. Not only did we receive much data to back up our position, but many wrote in to say that our analysis was right on.
In this issue of Under Lock & Key we are printing data on the prison labor going on in New York, Texas, California, Florida, Colorado, Oregon, Connecticut, Pennsylvania, Wisconsin, Washington, Utah and the Federal system. These systems represent over half of the U.$. prison population, so we feel confident that our conclusions are fairly accurate for the system as a whole. We still welcome reports from correspondents in other states and prisons for future research.
In summary, all states have industries that produce goods for sale. Most if not all of those products are sold back to other state agencies, mostly within the Department of Corrections itself. Workers in these industries usually make more than those doing maintenance and clerical work, with a max of a little over a dollar an hour. While we don't have solid numbers, these are generally a small minority of the population and not available at most prisons.
Maintenance workers are also universal across all prison systems. Even most supermax prisons have lower security prisons adjacent to them, providing a labor source for running it. In many places such work is not called a job, but "programming." In some states, like New York, your programming can be pseudo-educational or rehabilitative programs instead of labor. Programming is often required. When it is paid it is usually less than fifty cents an hour.
The Federal Bureau of Prisons has one of the largest prison industries selling goods outside of the prison system, but it is selling mostly to the Department of Defense — another government agency.(7)
The UNICOR annual report boasts the benefits of prisoner labor: "With an estimated annual incarceration cost of $30,000 per inmate, FPI's programmatic benefits represent significant taxpayer savings, while restoring former inmates to a useful role in society." They claim "a 24% lower recidivism rate among FPI participants."(8) There is no information on how this number is calculated but we suspect that it is flawed because the selection of UNICOR workers from the general prison population is not random. On the other hand, we do know that there are few opportunities for prisoners to acquire any useful skills prior to release. If UNICOR training truly reduces recidivism, this should be an obvious and compelling argument that prisons need more such programming. It does not have to be tied to low pay and forced labor.
Jobs related to running the prisons (cleaning, library, administrative roles, etc.) help reduce the costs of running prisons but clearly don't create any new wealth. UNICOR and its parallel industries in the state systems merely allow the Departments of Corrections to obtain money from other state agencies that they were going to spend anyway, or directly benefit the DOC by providing it with supplies. Even with requirements that state agencies purchase from such programs, they do not come close to covering prison expenses.
It is a dangerous proposition to tie financial benefits to prisons as this gives those who profit an interest in growing the prison population. However, at this point in time only a small minority of prisoners are actually employed, so prisoner labor does not appear to be a major drive behind the ongoing rapid growth of the U.$. prison population.
Modern day slavery or exploitation?
Many prisoners raise the question of whether forcing prisoners to work for no pay violates the constitutional amendment that abolished slavery. The 13th amendment abolished slavery "except as a punishment for crime." The article by some New York prisoners in this issue of Under Lock & Key does a good job of explaining the history behind this exception.
Slavery is a system characterized by the capture or purchase of humyns for the purpose of exploiting their labor. As Marx explained "As a slave, the worker has exchange value, a value; as a free wage-worker he has no value; it is rather his power of disposing of his labour, effected by exchange with him, which has value." Marx is clarifying the distinction that slaves, as objects to be purchased, have exchange value. While capitalist workers are not purchased, they are selling their labour instead.(9) While prison labor is similar to slavery in that it involves workers who are receiving virtually no pay for their labor but are being provided with housing and other basic necessities, there are a few factors in prison labor that distinguish it from slavery as we use that term to define a system of exploitation. First, states have to pay other states to take their prisoners, implying they have no exchange value. Prisons are used as a tool of social control, with the use of prisoners' labor only as an after thought to try to offset some of the operating costs. Which leads to our second point: there is no net profit made off the labor of prisoners - because of the cost of incarceration, the state is only able to offset a portion of the cost of providing for a prisoner by using his/her labor. Because of these features of prisoner labor, we do not call it slavery.
Even if prisoner labor is not slavery in the economic sense of that term, it is still possible that prisoners are exploited. Exploitation means that someone is extracting surplus value from the labor of someone else. The profit or surplus-value arises when workers do more labor than is necessary to pay the cost of hiring their labor-power. This is the way that capitalists make a profit — they pay people less than their labor is worth and then sell products for their full value. The difference is the profit.
In the United $tates, the imperialists are paying workers more than the value of their labor. They can do this because of the tremendous superprofits stolen from exploiting the Third World workers. And they want to do this because it maintains a complicit population at home which has a material interest in imperialism and keeps capital circulating with its excessive consumption. Amerikans support their imperialist government because they benefit from it. They may not all earn the same as the big capitalists, but even in a recession they can look to the Third World and see that they don't want to share the wealth around the world evenly because that would mean a step down for First World workers.
There are some notable exceptions within U.$. borders: non-citizens are often forced into jobs that pay far below minimum wage (or often don't pay them at all) as they are in a shady sector of the economy. Many migrants in the United $tates are exploited, but they make up a very small portion of workers in this country.
Using the term exploitation to describe prisoner labor is complicated. Prisoners certainly earn very little for their labor, but we also have to include the cost of providing prisoners all of their necessities (although with very poor quality that leads to many unnecessary deaths). Of course much of what is being provided "for" prisoners is not part of their cost of living but rather part of the cost of keeping them captive and providing a high standard of living for their captors.
It is fair to say that prisons are stealing the labor power of prisoners. They have made it impossible for prisoners to refuse to work and the actual pay prisoners receive is far less than the value of their labor. By stealing labor power, the U.$. prison system also prevents the self-determination of the Black Nation and First Nations whose people are vastly over-represented in the system.
To the extent that the states can't continue to run prisons on tax money they don't have, prisoner labor is a valued part of the money going to the many labor aristocrats working in the prison system. An offset to the cost of running prisons is useful, even if that offset does not come close to covering even the cost of those prisoners doing the work. But it's important to remember that this labor is only useful because expensive prisons existed first.


Solutions
A number of articles in this issue include calls from prisoners to take actions against the prison industries that are making money off prisoners, and to boycott jobs to demand higher wages. All of these actions are aimed at hitting the prisons, and private industries profiting off relationships with prisons, in their pocketbook. This is a good way for our comrades behind bars to think about peaceful protests they can take up to make demands for improved conditions while we organize to fundamentally change the criminal injustice system.
State-by-State Info
Florida
Prisoners are employed by the DOC, and most do maintenance and clerical work. No Florida DOC inmates are paid for work, with the exception of inmates assigned to work in the inmate canteens(making $65 a month) or the few locations in the state where they have PRIDE factories, which are manufacturing-type businesses run by DOC to make goods for correctional use (clothing, cleaning supplies, etc). Even these inmates are paid a few cents an hour.
Colorado
Denver Women's Correctional Facility has a capacity of 900. Everyone is assigned for work unless they have medical excuses. Those not assigned to a job make 25 cents a day, 7 days a week. Those assigned to standard prison work make 60 cents a day, 5 days a week. Prison Industries jobs are a sewing factory, print shop, and dog training program. These jobs may pay up to $40 per month. All salaries are automatically docked 20% if restitution, court costs, or child support is owed.
Pennsylvania
SCI Fayette has about 1800 to 2100 prisoners, of those 1200 to 1400 work for the DOC doing various work assignments. Jobs are related to running of the facility, such as maintenance, commissary, grounds crews, schooling, laundry, barber shop, library and janitors. Some also work for "Correctional Industries." The pay scale is as follows in $/hour:

| | | | | |
| --- | --- | --- | --- | --- |
| | Step A | Step B | Step C | Step D |
| Class 1 | 0.19 | 0.20 | 0.21 | 0.23 |
| Class 2 | 0.24 | 0.25 | 0.27 | 0.29 |
| Class 3 | 0.33 | 0.35 | 0.38 | 0.42 |
People usually work from 120 to 160 hours per month, so top pay would be $50.40 to $67.20. Correctional Industries (CI) makes 51 cents or about $81.60 a month. Like similar programs that exist in all 50 states, Pennsylvania Correctional Industries produces things such as furniture, clothing and personal care products primarily for purchase by state agencies.
Washington
Washington State Penitentiary holds about 2240 people. Of those around 250 work for correctional industries . Most of those sew clothes for inmates, the rest do welding of furniture for cells and make license plates. They pay up to $1.10/hr.
"Inmate duties" pay from $35 to $55 a month, and include cooking, cleaning, serving food and washing clothes.
Connecticut
In MacDougall-Walker CI only about 25% of prisoners have jobs here. Some pay rates here are:

| | |
| --- | --- |
| job | $/2 weeks |
| dishwasher | $10.50 |
| barbers, laundry, cooks | $17.50 |
| school | $7.50 |
| small engine repair | $25 |
| making uniforms/clothes | $25 |
Oregon
Industry jobs pay between $100 to $175 a month and all the rest pay between $25 to $75 a month.
see Prison Labor at Oregon State Pen
Texas
In Texas, every general population prisoner is required to work. They either work in the service of prison upkeep (i.e. maintenance, food service, field labor, support service inmate, etc.) or they work in one of the various factories owned by TCI (Texas Correctional Industries). There is no pay for work.
Texas prisoner forced to work for no pay
Prison labor stats in Texas
Work, money and good time in Texas
New York
New York has programming that varies from educational/rehabilitative programs, to maintenance work to CorCraft industries.
| | |
| --- | --- |
| Grade 1 | 16¢ per hour |
| Grade 2 | 25¢ per hour |
| Grade 3 | 32¢ per hour |
| Grade 4 | 38¢ per hour |
| Grade 5 | 42¢ per hour |
Each facility is limited to a small number of people being paid grade five, so in all actuality Grade 4 is top pay.
see New York Prisoners report on Labor and Economics
California
For wages between 8¢ and 34¢ an hour prisoners do normal maintenance work as well as produce clothing, food, bedding, cleaning products, tables, chairs, modular offices, license plates and the tags that go on them for the state.
see Remove the profit motive
Prison labor and economics in California: who really profits?
Wisconsin
Wisconsin pays for programming including educational programs, prison maintenance and Badger State Industry jobs. The pay ranges for non-industry work are: 12 cents ($9.60 every 2 weeks) to 42 cents ($33.60). At Green Bay CI, with about 1050 prisoners, about 300 work maintenance and only 18 prisoners work industry, which makes from 79 cents to a dollar an hour. They make clothing for outside vendors and to sell to prisoners around the state.
Utah
Utah pays $7 a month and has thrown out a lot of work positions that use to be available. The prison does manufacture houses in their carpentry program, and UCI commisary has convicts making sweats and shorts down in Gunnison, then selling these products back to the U.$ and community.
Federal
In Coleman II, 90% of prisoners work, most of them do facility maintenance for $12 a month to work 8 hour, 5 day workweeks. A minority get to work for UNICOR.
The private industries run by UNICOR employ 21,836 prisoners across the country, with pay ranging from 23 cents to $1.15 per hour. In 2007 UNICOR showed profits of over $45 Million, with most of their products being military supplies for the Department of Defense.