National Oppression in Prisons: Still Going Strong
The United $tates locks up New Afrikans at a rate more than 5 times Euro-Amerikans. The rate for Chican@s is at least 1.4 times higher than whites, and the way the prisons collect information on "Hispanics" makes this number likely an underestimate.(1) This dramatic over-incarceration of oppressed nations in U.$. prisons isn't new. But the huge numbers of people locked up is a relatively recent phenomenon. In the 1960s the disparity between incarceration rates was actually about the same as it is today. But the prison population was much smaller, so it impacted a lot fewer people.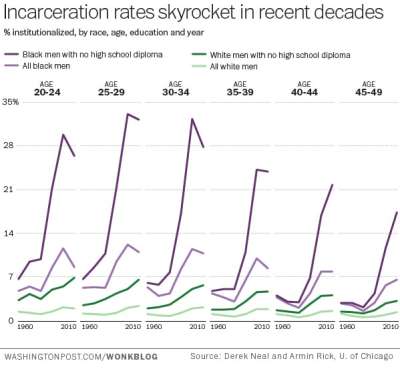 In 1960, the white male incarceration rate was 262 per 100,000 white U.S. residents, and the New Afrikan male rate was 1,313; that's 5x the rate for whites. By 2010 this disparity had risen to 6x. This means New Afrikan men were six times more likely to be locked up than white men. This discrepancy had a much bigger impact in 2010 because incarceration rates skyrocketed starting in the 1970s, so that by 2010 the New Afrikan male incarceration rate was 4,347 per 100,000.(2)
In 2000 the discrepancy in incarceration rates between New Afrikans and whites actually started dropping, and by 2015 it was back down to the 1960 levels. Between 2000 and 2015 the imprisonment rate of New Afrikan men dropped 24%, while at the same time the incarceration rate of white men rose slightly. Among wimmin we see the same trend but with a 50% drop for New Afrikan wimmin and a 50% increase for white wimmin.(3)
We need to put these changes in context. The incarceration rate of New Afrikans is still ridiculously higher than for whites! National oppression in prisons has not been eliminated, not even close. At the current rate of change, it would take until around the year 2100 to hit imprisonment equality by nation.
But we can't ignore changes like these, especially when they are consistent over a 15 year period.
Prisons are used primarily as a tool of social control by the United $tates government. Oppressed nations have always been a threat because of the dialectical relationship between oppressed and oppressor. And so oppressed nations face the highest incarceration rates. And the biggest targets are those who are organizing for revolutionary change, as we saw with the massive COINTELPRO operations against the Black Panther Party and the Young Lords Party in the 1970s.
So why would the criminal injustice system shift to lowering the rate of incarceration of New Afrikans but not doing the same for whites? One possible explanation is that changes to the criminal injustice system have been proceeding at different rates in cities and in non-urban areas. The drop in incarcerations rates has been largely driven by lower rates in cities while incarceration in rural areas has remained unchanged.(3) We may see these changes even out over time.
Post-emancipation proclamation, we have seen changes in national oppression in Amerikan society at various times in history. These changes generally happen in response to social movements. Reforms ranged from ending legal segregation to curtailing overt discrimination in arenas like housing, employment, and loans. But these reforms didn't actually put an end to these practices; the reality of segregation and discrimination continued, just shifted to more subtle or hidden forms. Nonetheless, we can say that in some regards conditions for oppressed nations within U.$. borders have improved. This is not surprising as the U.$. government can't really afford to have active unrest within its borders while it's fighting so many overt and proxy wars around the world. Imperialism is more stable when it can keep its home country population pacified.
In a wealthy imperialist country, the capitalists have the money to partly integrate the internal semi-colonies, buying them off with the benefits of imperialist plunder. But the national oppression is so entrenched in modern imperialist society that we don't anticipate full integration of these internal semi-colonies. And so we think it's likely the gap between white and oppressed nation imprisonment rates won't come close to closing. But the current trends in imprisonment rates are something to keep watching.
This article referenced in: