MIM(Prisons) Update: January 2022
This is your newsletter, as evidenced from the vast majority of articles, reports, poetry and artwork coming from prisoners in every issue. In the last year comrades inside really came together to support our fund drive and our distribution drive as well, and we are making steady progress on both. 2021 was a good year for us overall and we hope to build greater things in 2022, some of which are outlined in this issue of ULK.
Our MIM(Prisons) annual review meeting in December was focused on re-prioritizing tasks in order to expand our outside support base, increase subscribers inside and support the growth of a broader Maoist movement. To increase subscribers inside we've been slowly increasing our list of ULK distributors who receive extra copies of ULK to distribute to others in their prison. We've reached the point where almost 10% of the newspapers we're sending into prisons are going to distributors, but we want to see that number much higher in 2022. If you'd like to receive extra copies of ULK to distribute let us know how many you can use and send us reports on your distribution efforts each issue.
Because of the decrease in frequency of ULK and the decrease in subscribers, we are sending less than a fifth of the number of newspapers into prisons we were sending in some years ago. The main way we think we can improve our numbers is by increasing ULK back to every other month. However, we will need to recruit much more outside support to make this happen as we are barely pulling this together every 3 months. Issue ULK 76 was almost delayed, and much work was rushed together at the last minute because we don't have enough steady supporters.
In spring 2021 we announced we would be doing an annual Fourth of You-Lie fundraiser drive among the readers of ULK. We told you that 7 stamps would cover the cost of your 4 issues for the year. Below we've graphed the contributions we received from our readers in prison for the whole year. In Q1 and Q2 we removed the contributions of one particularly generous comrade who contributed over $200 in Q1 because ey was skewing our results so much. By excluding em, we see a steady growth in contributions coming in, and more importantly a steady growth of individuals sending contributions. While we welcome our comrades to send in $200 that can, it is by increasing the number of donations that we know our mass base is growing. Looking at our numbers for the last quarter of 2021, we see about 8.5% of the people receiving ULK 75 sent a donation during that quarter. While we didn't do the math to track this over time, we believe this is probably one of the higher contribution rates we've ever had!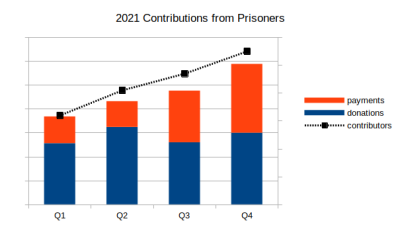 The line on the graph above represents the number of people contributing funds over the four quarters of 2021. The bars represent the money coming in as donations or payments. (All numbers include prisoners only.) 'Payments' means people sending money for a specific book or document. In some cases the difference is not important. However, if we get 100 people ordering copies of the TX Pack next quarter, that would shoot up our contributions but none of that money would be going to ULK or other projects, it would just pay to print and mail TX Packs. So it's better to see the donations portion increasing. If we look at just the donations on the graph, prisoners are covering 18% of the cost of printing ULK! This level of support will make it much easier for us to increase the frequency of ULK, but we still need outside comrades to help do the work.
We hope you will be a part of ULK's success in the coming year by doing any of the following: donating 7 stamps or more, sharing/distributing ULK, sending in conditions reports, writing articles, creating anti-imperialist artwork and promoting MIM(Prisons) work with your contacts outside prison. Of course, ULK exists to serve the anti-imperialist prison movement, and anything you do to build that movement is why we are here.
TX Pack and book orders
For those of you who are sending payments (no checks/money orders) for books or resources, please expect about 2 months between the time you mail out your request and you receive your item. For TX Pack requests, you must pay 7 stamps or $3.50. We do not have anyone working on the TX Pack, so the 2020 edition is all we have.