Do We Need a Party Yet?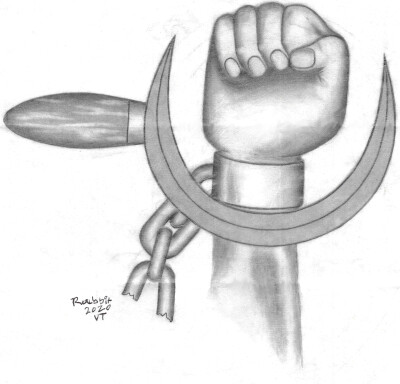 Karl Marx was writing at a time when bourgeois democracy had triumphed, and political parties ruled the day. These political parties represented the various oppressive classes, primarily the bourgeoisie itself. A radical idea at the time was to form a party that was for and by the proletariat.
V.I. Lenin led the first successful project to build a proletarian party, a Communist Party, and take power from the hands of the oppressors and put it in the hands of the oppressed. Lenin left us with many lessons on how to do this, how such a party should be organized and how it should operate. The Party as the vehicle for the transfer of power from the oppressor to the oppressed has been a foundation of revolutionary science ever since.
The Maoist Internationalist Movement began in 1983. In 1990 the first MIM party, MIP-Amerika, was formalized. In 2006, the Party dissolved and put out a plan for a new cell structure for the MIM. In 2007, MIM(Prisons) formed as a cell. There remains no functioning parties within the MIM today.(see Continuity and Rupture: A Counter-Narrative to JMP's History of Maoism for more on MIM timeline)
A CA USW comrade: "[The journal] Kites hit it square on the head though as MIM has said we really don't have a vanguard. But I thought Kites' pointing out a squandered opportunity in 2020 on point. This is our job, to seize opportunity out of the objective situations and especially the crisis amongst the enemy itself. The only thing missing regarding the external factors (we can't control) is 3rd world revolutionary revolts. But we have no mass support but 2020 should've been a god-send for that. And it wasn't."
Actually, MIM has never said we don't have a vanguard. MIM has always said the vanguard is the most advanced political line, which could be held by a tiny organization or even one individual when conditions are very undeveloped. What this comrade gets right is our situation remains very undeveloped.
We won't get into a deep analysis of revolutionary forces here. We do think 2020 was an opportunity to expand our influence that we could have done more with if we were stronger. But the essential character of the U.$. population did not, and has not changed from 2019 or from 2001. The vast majority in this country benefit from the current imperialist order.
MIM(Prisons) has argued that the cell structure makes sense at this strategic stage, even within a Leninist model, because we are not vowing for state power at this time, or tomorrow. Another USW comrade in Federal prison contends that the lack of a party:
"complicates the task of implementing a totalizing strategy for revolution and building the mass base to carry it forward."
This comrade argues that we need a united leadership to guide us down the correct road now. We touched on the inherent contradiction of the cell structure in our Reassessing Cell Structure 5 Years Out where we pointed out that it allows for one cell to decide its time to form a party, while others disagree. If only that were the main problem we were facing today.
The question is, do we need a party for a united strategy? And what are the downsides of moving too quickly into a Party formation to try to achieve that? We actually have a question about the weaknesses of the a party structure in our introductory study course. Here are some recent answers:
"B.D.S.: Bad leadership could cause death of the movement

Ocelotl: Easier to target and infiltrate

Iashstiem: Security is more easily compromised
Adonis Salvo: More difficult to control and keep organized and focused
The Sober Souljah: Slacking in security by accepting strangers
F.L.A.V.A. 1: It will bring more of a spotlight on the party depending on its action in the revolution
Anarchy in VA: Prioritizing actions to take
Jups: Snitches/spying break down organization"
The primary answer, and the primary reason given by MIM for adopting the cell structure, was security. The second reason offered by comrades here is a fear of putting all your eggs in one basket type of argument. If we can allow for a diversity of approaches, we have more possibilities for success. This could be especially important in the early phases of our development as a movement. If five people come together and form a "Party" all we have is five self-appointed leaders. MIM(Prisons) often mentions the development of leadership that occurs through the forced self-reliance within small cells. It is when we have cells around the country who can elect leaders to represent them in a Party that such a project becomes viable.
A CA prisoner comments: "I was very impressed with ULK's answer to the Potash book on Tupac. Until now I did not know that anyone other than myself was aware of the extent the intelligence community is involved in eliminating dissidents of their empire and the psychological warfare against civilians in the U.S. thru COINTELPRO and other intel ops against civilians. I was astonished to have my innermost suspicions confirmed by ULK. With the elimination of our leaders, we can not succeed thru unity, We must adopt independent cells as a model as you are obviously aware, every time a potential leader arises that can restore basic human rights and dignity and even freedom itself, the U.S. government is quick to eliminate our leader.
"And so you are correct in educating the People… Thru mass education, hopefully the People will awaken and do the work independent of any one leader, as a duty to the idea of freedom, not as a part of a bid for acceptance… True freedom can only come from socialism… We face a giant and to truly succeed we must be very wise. We cannot win by force yet so let us educate ourselves and know that against our common enemy we all must fight our own battle."
This comrade touches on security, our strategic stage and the strategy of People's War as opposed to great man theory. Education is always important, but at this stage it is principal over the use of force. This comrade's approach to mass education as the best hedge against losing the leaders we depend on is in line with the Maoist strategy of People's War. This strategy involves building a People's Army that is embedded in the people, engaging in productive work and educational campaigns side-by-side with the people as we work towards developing base areas. Ultimately, as this comrade points out, Mao's emphasis on how the people must learn to wage war through waging war rings true.
In our culture, social media reinforces practices that put individuals in the spotlight. We must develop ways to utilize the reach of the internet, without promoting ideas of great man theory or revealing persynal information of our leaders.
Security practices is one area where we must do more education. The only people MIM(Prisons) has interacted with that have good security practice seem to be individuals working alone. The state of basic security practice among revolutionaries is horrible. There is no way to succeed in a serious struggle with such practices. Yet, we must move beyond isolated individuals posting anonymous content to actually do real organizing.
A NY USW comrade asks: "Is the cell ideology productive? As a single unit I have not been able to grow. I do not believe it is me. Is there more I can do somehow else?"
The original MIM resolution on cell structure pointed out that a one-persyn cell is the most secure. But is it effective? MIM(Prisons) critiqued the idea of a one-persyn cell in general in its lack of ability to develop knowledge dialecticaly with just one mind. Some may be able to do it, but we don't think it is a path that will move us forward fastest.
So what of the single-persyn cell trying to grow that can't seem to recruit? In prison this problem is distinct in that you have no control over who and how many people you have access to. That is a separate problem. And we'd say you can reach others and recruit outside your prison by writing and producing artwork for Under Lock & Key, for example.
Whether in prison or not, the question becomes what can the party or larger organization give you as an individual to increase your success? We might think of things like a newspaper, mass campaigns, sharing experiences around what works and what doesn't, connecting people and projects to make our work more efficient, imposing rules and discipline on cadre. It is not clear to us that we need a party for any of these things. We propose that technology today allows us to do all of these things in an anonymous and efficient manner.
MIP-Amerika was known to have better security practices than most self-declared communist parties in the United $tates, and yet they saw security as a weakness that led to their demise. We should take this lesson to heart. It will be premature to launch a party before cadre have come to understand security practices and power struggle. Our conditions include a level of surveillance and Liberalism that other revolutionary movements did not face. We must have real strategies for addressing these problems before we embark on the Party-building project.
The problem with the cell structure as it exists in our movement is that there is no centralized strategy for layering our security practices. The problem faced by small organizations concerned about security is how to separate out roles and tasks when your cadre is limited. The cell structure can force this situation onto us. The advantage of the Party is being able to do this bigger-scale and longer-term strategic construction. But we argue that we are not at this stage yet.
The cell structure is pointless without good security practices. That would play to our weaknesses by needlessly dividing our limited forces. It is only by developing security practices that would allow for a successful bid for state power that the cell structure really becomes operational. In the early stages of Party formation we should aim to maintain some of the policies of cell structure as a fail-safe. As our position becomes stronger, the security problems of a centralized party become less of a concern.
As always, politics must stay in command. This type of strategic thinking must come after an ideological consolidation. We seem to be in the stage of "letting 100 flowers bloom" as different interpretations and applications of Maoism in occupied Turtle Island are doing their things, watching and criticizing each other. While we have criticized a number of these trends as revisionists of Maoism, the diversity of people we see studying Maoism is a step forward. We will need many more cells organizing around the MIM cardinal principles, with demonstrated practices, before the question of party building becomes concrete for us.
As we move to the next step of ideological consolidation, we must address this strategic question: when is it time to build a Party? This is a question of utmost importance as we have no successful revolutionary strategy in conditions like ours to learn from. We must not rush to form a Party in a way that suddenly reveals all of our fiercest leaders to the state. As the state will move to kill, imprison, bad-jacket and pit these leaders against each other. Perhaps we can achieve ideological unity and strategic unity prior to forming a party. At this time we believe we should strive to preserve the benefits of cell structure without promoting isolation.

Related Articles: