Announcing Campaign to Resist Restrictions on Indigent Correspondence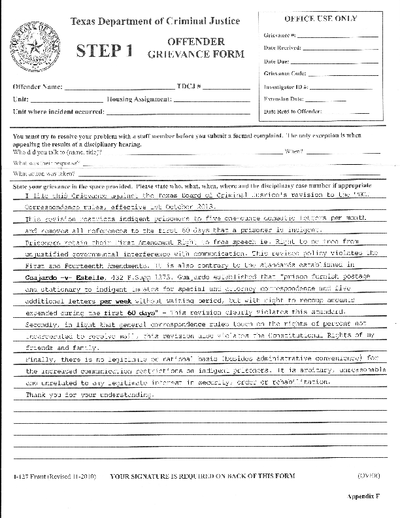 During their August 2013 Board Meeting, the Texa$ Board of Criminal (in)Justice approved a revision to the Texas Department of Criminal Justice (TDCJ) Correspondence Rules. The rules came into effect with no warning on October 1, 2013.
This new revision restricts indigent prisoners to 5 one-ounce domestic letters per month. It also removed all references to the first 60 days a prisoner is indigent — essentially allowing the TDCJ to collect "indigent debt" indefinitely. The previous policy allowed 5 letters per week and only allowed TDCJ to recoup amounts expended during the first 60 days a prisoner is indigent. This revised policy clearly violates the First and Fourteenth Amendments, especially in light of Guajardo v Estelle, 432 F.Supp 1373 (1977 U.S. Dist. LEXIS 16242).
We must proactively resist this policy. Attached is an example grievance that can be filed by TDCJ prisoners. I encourage you to edit, expand, personalize, or revise it. Proactively seek out other prisoners who have the courage to resist this revision. Encourage family/friends/freeworld comrades to contact the officials below and demand that this new policy be repealed:
TDCJ Ombudsman, PO Box 99, Huntsville, TX 77342-0099
[email protected]
936-437-6791

TDCJ Executive Director, PO Box 99, Huntsville, TX 77342-0099
[email protected]
936-437-2101

Senator John Whitmire, PO Box 12068, Capitol Station, Austin, TX 78711
512-463-0115

Governor Rick Perry, PO Box 12428, Austin, TX 78711-2428
512-463-2000

Chairman of the Texas Board of Criminal Justice, PO Box 13084, Austin, TX 78711-3084
512-475-3250
Fax: 512-305-9398

Attorney General Greg Abbott, PO Box 12548, Austin, TX 78711-2548
512-463-2100

Lieutenant Governor David Dewhurst, PO Box 12068, Austin, TX 78711-2068
512-463-0001

Speaker of the House Joe Straus, PO Box 2910, Austin, TX 78768-2910
512-463-1000
Another new policy that came out of the August Board Meeting which needs our proactive resistance prohibits prisoners from receiving stationary through the mail, starting 1 March 2014. You will only be allowed to purchase stationary through the commissary. TDCJ is attempting to create a monopoly. Once this happens, they will be able to charge whatever prices they wish for their stationary. Start organizing resistance to this policy NOW!
Fight the System!