Sacrifice Behind Bars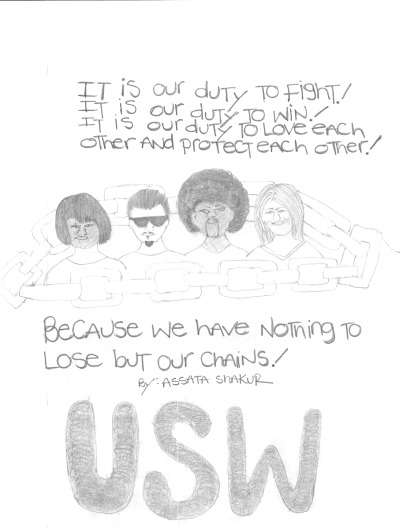 Revolutionary Greeting to you all!
Excuse me if I haven't tapped in as often as I should or used to… I've been on a mission and roller coaster fighting these administrations not only by exposing and being the example as to how not to fear the oppressor when involving yourself and others in direct action politics and hard line… It's a way of life, it's a way of existing that comes with much sacrifice. What are you willing to sacrifice? What are you willing to be without? Luxury items? Food? Nice clothes or any clothes at all and have nothing but the fire inside? A loved one or communication with your people? I mean this is what's at stake when fighting the enemy, this is the truth and all reality specially being a captive in these golden gulags.
I fight for my people and i fight to stay alive every fucking day homie, even when the people I fight for don't have a spine to stand em straight, no voice to speak fact, no heart to love it's community nor hand and fire to fight back… But I still do. Doing this guerrilla shit and living as an example ALWAYS send me back to the SHU's, ASU's, Solitary Confinement, Control Units of terror. Why? Because I'm a captive warrior of Brown skin, Brown eyes, shaved head and tribal tats smashing the oppressor with my heart, mind, hands, weapons, and pen.
There's gonna come a time when we stop saying "Enough is Enough" and actually start putting that dialectical theory of knowing and doing into motion homeboy… make these dungeons unlivable, ungovernable, fuck kicking your feet up and being stuck on your tablet all day popping suboxone and snorting bottle… Huh? Sounds familiar Gee? Keep that shit raw and 100% then souljah.
So again to everyone on the streets, yea those street prisoners living lives like robots and that talk about eliminating prison plantations, for that we need a revolution first and foremost… and to all my camaradas/comrades stuck between a hard place and a rock up in them dungeons – what are you willing to sacrifice??
It's fucked up to say this but I'm living a life where the systems of oppression are actively trying to end my existence for one reason or another… I'm back in the SHU as I explained on the other kite and again the pigs did their games of divide and conquer, smut campaigns, and became the suppliers to the influencers on the yard, in order to be able to execute hits via inmate lap dogs… some of yall know what I'm talking about. How many times does a pig swing off the "Big dawgs" nuts? And simply because of what that pig can do for those whack ass "Big Dawgs" they make those lames set up the real guerrilleros and call a hit on em?? All the fucking time homie… and all of you that talk about stacking your millions while fighting the oppressor behind bars, don't tell me that you rather have this bitch on fire! Because the only way to stack your millions in prison is by pleasing the cops, do as they say so you can move "freely" and don't get your "house" hit, and tell rebels to stop bringing heat to the block, stop disrespecting pigs!! So you can continue pushing your dough.
C'mon homie, you talking to a mofo that's been in prison grounds since he was born!! My entire childhood has been spent in and out of the system and all my adulthood all I've known is prison so don't mess me with that shit… I'm all for moving unseen and that hustle but not at the expense of the People's fire, nor telling rebels to chill– Fuck that! Get your priorities straight and it's time we start smashing those "Big Dawgs" on the yards if they on that $ $ign over the homies… Cuz if that's eir get down then ey ain't no different than the mofo's keeping us in these cages.
Next time someone tells you filling 602 Grievances is snitching, or tells you to stop bringing heat to the pad or respect cops– Smash Em! He one of em! It might place you in another box with nothing but yourself and a mattress… But what are you willing to sacrifice? Live by example and turn it up then, cuz it all sounds very pretty on paper and word play but we have to start somewhere sometime… there's a roll for everyone… are you fulfilling yours and actually building for the end of capitalism?
In Struggle
Push Pull STRIVE !