Campaign for Adequate Food in Nevada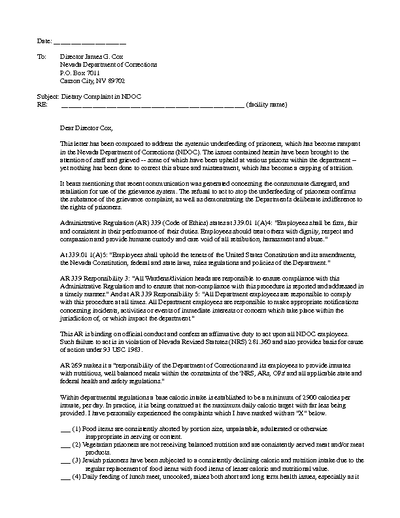 Enclosed is a document which has been generated for circulation within the Nevada DOC. The purpose of this correspondence is to raise awareness and begin a resistance campaign which transcends all lines drawn. It is to respond to the Nevada Department of Corrections's increasing inhumanity, malevolence and brutality being forced upon prisoners.
They are starving and abusing us on a record scale. There have been more than 11 prisoners shot since January 2012 in Protective Segregation alone. I know of several more in surrounding units with at least one fatal. Prisoner-on-prisoner violence is rising due to forced housing even amongst enemies. We also suffer from sexual assaults by pigs on prisoners, and coordinated retaliation and attacks on prisoners at the behest of the hats. Is this what we will allow ourselves to be reduced to?
This petition addresses the inadequate, contaminated and sometimes nonexistent food we are being served in Nevada. It is already in circulation where I am. Originally the petitions were sent to the facility Warden and Director. A few of us sent copies to the Department of Justice and Center for Disease Control (CDC). The CDC referred me to the Nevada Health Division. The Warden, to create an illusion of propriety, referred the matter to the Nevada Department of Corrections Inspector General. I contacted the Health Division who apparently also contacted the Inspector General within two weeks of notice of referral. An investigation was begun and is ongoing. In addition to these above noted, a copy was also sent to Nevada CURE and the United States Inspector General.