Connecticut Youth Killings Underscore Unequal Response in Amerika
Like many of you who are reading this issue of Under Lock & Key, I was saddened to hear about the senseless killing of 20 young humyn beings at Sandy Hook Elementary in Newtown, Connecticut. They were babies, taken away from us far too soon. After shaking off the initial shock, my analytical Maoist mind kicked into overdrive. I went into my locker and I retrieved my July/August 2012 issue of Under Lock & Key 27. I would like to quote comrade Soso of MIM(Prisons) in her/his piece entitled "Trayvon Martin National Oppression Debate." "A recent report by the Malcolm X Grassroots Movement cited at least 110 Black people killed by Amerikan cops and security in the first half of 2012."
Is this report not alarming? Should there not have been public outcry? Did not President Obama state: "If I had a son he would look like Trayvon." Well then why the hell didn't he form a special task force then to address gun violence? Was not Oscar Grant enough? What about James Craig Anderson in Jackson, Mississippi? What about young Jordan Davis of Jacksonville, Florida, murdered in cold blood because his music was "too loud"? All these young men of color murdered by white men, however, for some reason their deaths did not solicit the same response. Five hundred murders on the streets of Chicago this year! One fourth were under age 18. President Obama barely mentioned the gun violence in Chicago during his campaign. Why?
Comrades, the sad truth of the matter is, a Black life is not equal to a white life in Amerikkka. And it is not just the lives of Black youth that are under-valued. Latino, Arab, Asian, all are viewed as less than, undesirable, or expendable by the Amerikkkan Injustice System. This problem is pervasive and saturates the racist news media. Now here comes new gun legislation and "new" task forces. Who do you think the alphabet boys are going to be carting off to U.$. penitentiaries? Not white bread gun fanatic NRA members, that's for sure. It's going to be us! The Black, Brown, Asian and Arab lumpen underclass.
I recently was listening to a Houston hip-hop radio show on KPFT (90.1 FM) called Damage Control. The host "young Zeke" said "if a Black man shoots a bunch of people in Amerika he is a criminal. If a foreigner does it, he is a terrorist, and if a white man does it he's classified as mentally ill - that's bullshit!" Remember comrades "to be aware is to be alive!"
---
MIM(Prisons) adds: Since this comrade wrote this reflection, there was an incident in New York City where an Amerikan womyn pushed an Indian man in front of an oncoming train and killed him. She's been widely quoted as saying, "I pushed a Muslim off the train tracks because I hate Hindus and Muslims — ever since 2001 when they put down the twin towers I've been beating them up." The victim, Sunando Sen, was Hindu.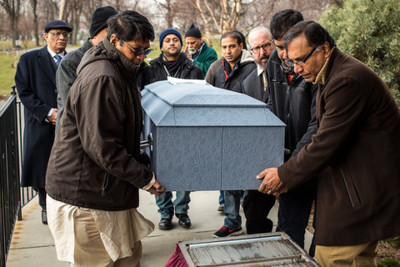 Erika Menendez was charged with murder as a hate crime, but has been ordered to have a mental health exam. Whatever Menendez's mental health, it is not like she said she killed Sen because he had brown eyes, or was too tall. She killed him because of his perceived religion and ethnicity, which are both proxies for national oppression. Sen would not have been murdered if Amerika did not promote hatred of other nations who try to free themselves from the grip of U.$. imperialism.
Just because most Amerikans aren't sophisticated enough to distinguish different religions and cultures does not make their national oppression any less real. Islam has been branded by Amerikans as the culture of a dangerous foreign enemy people. Armed resistance against imperialism has been strong across South and Central Asia for over a decade and it continues to spread. This is the material basis for Menendez's actions.
Some theorists that dabble in Maoism have hypothesized that nation is no longer principal in the age of neo-colonialism (simply defined as white power in black/brown face). But MIM(Prisons) still holds that the principal contradiction remains nation under imperialism today, even if it is not as black and white as it used to be. In the discussion around Trayvon Martin, we already said that George Zimmerman's Latino family does not preclude him from being associated with white supremacism. Similarly, we do not need more info on Menendez's background to state that she was clearly acting within the ideology of white supremacism. Neo-colonialism isn't just for those with political power anymore. There is a whole movement to enlist young men from Latin America to fight for U.$. imperialism in the Middle East.
The concept of nation is based in social conditions, not in phony ideas of genetics as race is. So while Amerika was a nation built on a racist ideology, it is in constant flux, like all things are. Similarly, nations can be transformed through assimilation. And even as separate nations exist in the United $tates, different segments of those nations will have different interests at different times. Those who use identity politics and simplistic expectations to negate the national contradiction ignore these ever-changing and interacting forces. In the United $tates the national contradiction is at a bit of a crossroads, but internationally the contradiction is stronger than ever. This is why the internal semi-colonies would be smart to stay on the right side of history and stand against imperialism as their ancestors did.
As we've discussed elsewhere, there is ample evidence that most "mental health" problems are social problems, which can be addressed with a re-ordering of the society we live in. By ending national oppression, ending militarism and ending the competitive individualism of capitalism where people get left behind and become alienated from society, we can prevent the types of incidents that happened in New York and Connecticut.