I am We! Kill Me for My People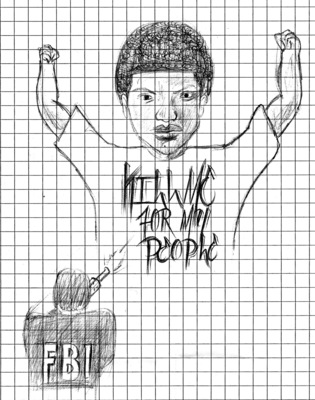 Engulfed in the day to day war of oppressed against oppressor, sometimes the pressures can be overwhelming, especially in these concentration camps of the united $nakes (prisons). If you're not blind you can clearly see on the faces of our brothers the lack of dignity and the lack of hope. You can hear when they speak, that their spirits have been crushed and ambition has been washed away along with the privilege and rights entitled to them as men at birth.
But why? We have accepted these oppressive conditions, almost embracing them as if they belong to us. We've grown accustomed to the establishment's evil ways and put it off as if nothing can be done about them. In a way we have sold our souls and hope is in constant suffering because of this. Where are the elders? Where is the hope? Did the hope die along with the revolutionaries of the past who were brave enough to protest and take a stand against the establishment, later being assassinated because they did? If so, then the future of the people is in question.
The future of the people is of no success without the hope and bravery of the people now! The future of the people is determined by the immediate actions of the people. There is honestly no more time to waste. Wasted time means wasted lives and enough of our peoples lives have already been taken not just by the hands of the oppressor but by reactionary suicide which of course is because of the oppressor.
Many of us, just like Huey P. Newton in the earlier stages of his life, have been searching. Searching for meaning. The meaning of life. Huey recognized, there is no meaning to life unless there is something to die for. To die for the people is what he later discovered as being his role in life. The people being his meaning for life.
He, along with many others influenced by him, put their lives on the line, for the lives of their people. He knew long after his death, that the conditions of the oppressed will continue unless there was social change. Change in which he set out to make. Not fearing death but accepting it as his fate by the hands of the oppressor, for a new life for his people.
So you may ask, what is your role? If you are a brother like myself, oppressed, exploited, victim of racism, victim of Amerikanism, which we all are, then I say our role is the same as brother Huey's was. Why wouldn't it be? Knowing that these conditions will not change unless we the people oppose the oppressive forces, then what more could our role be in life? What has more meaning to life than pursuing liberty and happiness? If not for thy people then at least for thyself, which would ultimately catapult amongst the people. I see no other role adequate.
But this is where the problem occurs. Many brothers are aware of the oppressive conditions. But yet grown so used to them that they are "normal" within our communities. I assure you that it is not normal. If it was then there wouldn't be classes of society, in which we are in fact the lowest class.
As humans, we are mistreated and unrecognized (along with our social needs). We are underprivileged, we are undereducated, we are underpaid, we are poorly housed and we are under attack by the hands of the government, through forces of oppression caused by capitalism and racism. Yet some feel it is unnecessary to take a stand. I beg to differ, I feel it is a necessity. With no stand, there's no future. We must liberate ourselves.
To die for the people, literally means to be suicidal. This is how Huey came up with the name of his book, Revolutionary Suicide. It is almost impossible to remain alive living as a revolutionary, because revolutionaries are objects of sacrifice for their people.
A revolutionary may not be fortunate to see the revolution since it is not an action but a process. But during their lives they advance the people towards a revolution, probably dying in the process.
Do not mistake revolutionary suicide with reactionary suicide, which is ultimately taking your own life due to the overwhelmingness of oppression or engaging in action caused by your reaction that will also ultimately lead you to death.
History shows us that revolutionaries are often assassinated at the hands of the oppressors they oppose for having influence over the masses, therefore preventing a revolution and or revolutionary advancement (raising people's conscience) etc. I think it is cowardly to see brothers who have been murdered as the sacrifice of my liberty to ignore their cause because of the dangers. We will die, but we will die for our people and that alone gives meaning to our life. Some are born just to die. These people have no meaning of life. Revolutionaries are awoken to die for the cause of bringing meaning to life.
We see that they assassinated MLK. We see that they assassinated Malcolm X. We see that they assassinated Mark Clark, Fred Hampton, Bobby Hutton, attempts on Huey and all because of the brave roles that were necessary for the liberation of the people. I accept my role as a young revolutionary which is why I coined this very phrase "kill me for my people."
I am we is an old saying that our ancestors used when asked "who are you?" "I am we" they would respond. "I, we, all of us are then and the multitude." This is revolutionary suicide.
---
MIM(Prisons) adds: For more on the Black Panther Party and Huey Newton, check out the Newspaper Archives.