Anti-Imperialist Opposition to AFRICOM Heard in U.$. Koncentration Kamps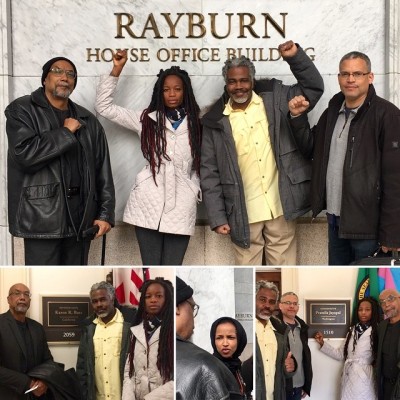 The campaign to get the U.$. military operations of AFRICOM out of Africa has been popularized in recent months. The Black Alliance for Peace (BAP) initiated a petition drive, which they extended to 4 April 2019, the anniversary of the assassination of Dr. Martin Luther King Jr. Comrades in United Struggle from Within stepped up and made a substantial contribution to this drive from within the U.$. koncentration kamps.
To add to the list(1) of California, Texas, Louisiana and Georgia, USW comrades came through with petitions from Oregon, Kentucky, Pennsylvania, and Colorado. California and Texas also produced quite a few more signatures. And some individuals from Maryland and West Virginia sent their signatures in as well. A large number of our subscribers are in long-term isolation and therefore collecting others' signatures is very difficult.
BAP submitted about 3500 signatures to the Congressional Black Congress chairperson and co-chair of the Congressional Progressive Caucus.(2) With the additional 193 signatures we received since our last report we have submitted 423 signatures to the campaign. That is more than 10% of the total signatures collected! United Struggle from Within made a significant contribution to this campaign.
Of course, that is a small victory in the large task of ending U.$. imperialism in Africa. An anti-imperialist message was brought to sections of Congress, and the streets of Washington D.C., by BAP last week. In solidarity, USW popularized the message behind the bars of U.$. koncentration kamps. When doing campaigns like petition drives, the interactions we have with the masses when collecting the signatures is even more important than the interactions BAP leaders have with Congress. Congress will not and can not end U.$. imperialism, only the oppressed people of the world have the power to do that. And that is why building unity among the oppressed around these issues is of utmost importance to our mission.
The torture and abuse enacted on the oppressed nations within U.$. borders is a product of the same system that is dropping bombs and unleashing brutal violence in African countries from Somalia, to Libya, to Nigeria. That is why MIM(Prisons) and United Struggle from Within are dedicated to the anti-imperialist prison movement in the United $tates. Without anti-imperialism, the prison movement is limited to treating the symptoms and not the disease.
The struggle to get AFRICOM out of Africa continues. If you did not get a campaign pack with info on AFRICOM, write us to get a copy. Discuss what is going on in the Third World with those around you. Relate it to the oppression felt here. Write articles for ULK. Our 423 signatures did not shut down AFRICOM, but the oppressed will shut down AFRICOM some day.