Fox Features New Afrikan Apologists for Imperialism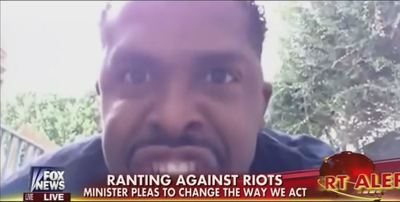 In the wake of the recent tragic death of Mike Brown in Ferguson, Missouri, Fox News and other white nationalist mouth pieces have been holding nightly segments on "Race in Amerikkka." On Friday (29 August 2014), Fox brought on petty bourgeois "New Afrikan" leaders. What appalled me about these appearances were the justification given by these appointed leaders for the unjust actions taken, not just in this horrific murder, but any point and time when cops kill people. Not once was anything said about how this disproportionate system has pushed the New Afrikan communities into further destruction. The removal of young New Afrikan men to overpopulated prisons, underfunded schools, scarce jobs, and lack of community investment are real problems, that get zero air time. While these New Afrikan leaders could have gone into discourse about this, it seemed as if they wanted to speak kindly and give answers that reactionary views could agree with.
The solutions that this panel of "leaders" gave were borderline absurd. 1) Give the murderous cop the benefit of the doubt. 2) Stop looking at the death of Mike Brown as a race issue, but a people issue. 3) The nation's problems can only be solved by church and 4) This would all stop if all poor people jumped into the middle class. I can only agree with one of 4 of these solutions. The killing of people by cops is a society issue. Any time a cop kills anyone, 9 times out of 10 the cop will never see jail, and if he does he won't go for very long. As for the rest of these solutions, I felt like it only gave excuses for all of us to lay down and accept the militarization or police, state executions of people in communities, and the immunity by police as a fact of life.
The stark reality is, this kkkountry has a real problem. A majority of people in prison are from the internal semi-colonies, who come from underdeveloped communities. Again if racism and white privilege isn't a fact in our society, why are we so encouraged to act, think, dress and accept what white society tells us? In fact, white supremacy is so ingrained in our society that we are raised with it, often times we don't even notice. Poverty, profiling from police, bad housing, and schools that pipeline kids to prison, not to mention the criminalization of social behavior from childhood to high school. It is no real wonder that most of us end up in gangs, drug wars fueled by profit, single parent homes or just unwanted and state raised. All those who spoke on Fox News made me sick; prayer and peace is not a defense against bullets and badges and prison cells.
What's being done in this young man's tragedy should be a wakeup call and more importantly a call to arms. How many more of our children are we going to let them kill? How many more family are we going to let them lock up? Why haven't we learned, this system doesn't want us or accept us. When we as captives choose to ignore the reality of this system, or we choose to buy into it, then we are accepting all that comes with it: white supremacy, cultural aggression, and more horrifying oppression and imperialism. The system's use of psychological warfare will always drive us to hate our cultures, nationalities and ourselves.
The U.$. will always seize the opportunity to pin the classes against one another and media outlets like Fox feed the misconception and downplay the situation of us in bondage to the U.$. colonial system. If we in prison build upon the reality of what life holds on the outside and how it will lead us to always be on the fringe we will then chose to feed revolution or fail.
This same attitude in national news feeds helps keep us kaptive, by allowing them to think that we are the real dangers to society rather than recognizing that we are kept in bondage because their government has led us to a violent, overly repressed and suppressed society, that drove us into poverty, fed drugs into our communities, gave us guns, and let the pigs clean up the mess.
Fear is a powerful tool, the longer we keep disorganizing and keep in-fighting the more we keep allowing the system, our kaptors, and society in general to continue on the path of building prisons and killing our children. We know the path, now it is time to build. Standing in solidarity.
---
MIM(Prisons) responds: There have always been individuals from the oppressed nations who the oppressor could use as mouthpieces for their own ideas. But the petty bourgeoisie in the internal semi-colonies of the United $tates is bigger than ever today. And as mentioned above, the political solution offered by those taking up white nationalist politics is to have all New Afrikans, [email protected], or whoever the target is, join the Amerikan petty bourgeoisie, or as they say, "the middle class."
There are two problems with this strategy. One is it is not happening on the broad scale that they would hope, and is merely a pipe dream fed to the oppressed to keep them pacified. The other is that joining Amerika is joining the most hated nation on the planet. And these two points are connected. On the one hand Amerika is hated because it oppresses and exploits all over the world, and this is why they have such a large, wealthy middle class. On the other hand, this oppression takes the primary form of national oppression, which is justified by ideas of race. Therefore there are both economic/structural limits to integration in the United $tates as well as cultural limitations, as the white nation must see itself as superior in order to support the actions of its imperialist government.
We need to keep in mind that the mainstream media reflects the views of the oppressor nation in Amerika, not just the views of the imperialists in power. This is why we need a revolution, not only in the economic base that allows oppressor nations to profit off the exploitation of the oppressed in the Third World, but also a revolution in the culture and institutions that promote reactionary ideas and justify the system of national oppression.
Even after capitalism was overthrown in China, and the communists had taken state power, they undertook the Great Proletarian Cultural Revolution to criticize old reactionary ideas and create new revolutionary culture, and to encourage the people to criticize their leaders when errors were made. This is necessary because we cannot get rid of so many years of capitalist/racist culture overnight. Even good comrades can be influenced to wrong ideas. If this was necessary under a socialist state, just think how much more difficult it is under capitalism, in the richest country in the world, to create proletarian culture. We do not currently have the resources to fight state-supporting media like Fox. Work with us to build independent institutions of the oppressed!