Liberate Our Elders Event Unites Inside & Out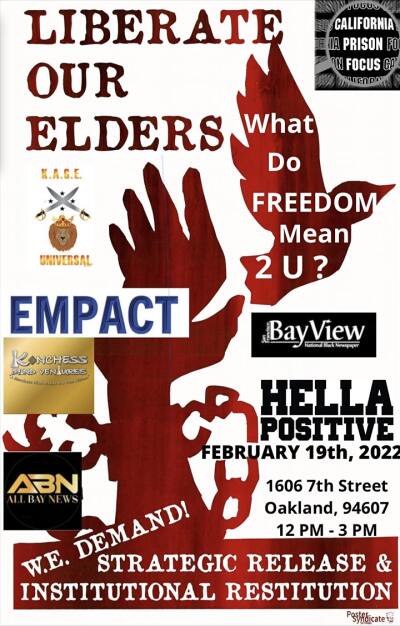 19 February 2022 – K.A.G.E. Universal and Hella Positive hosted an event featuring the voices of New Afrikan elders as part of the campaign to Liberate Our Elders from the cages of the California Department of Corrections and rehabilitation(CDCr). As the comrades say, little "r", because there is no rehabilitation, and rehabilitation must come from within.
At this event MIM(Prisons) shared copies of our new pamphlet, A Revolutionary 12 Step Program, in the spirit of supporting self-transformation via independent institutions of the oppressed. We also joined K.A.G.E. Universal in promoting the United Front for Peace in Prisons, as they work to expand the message of independent peace building behind bars and in local schools in Oakland.
The event brought together many outside activists and organizations and the voices of New Afrikan principal thinkers from the Pelican Bay SHU who are now on the streets as well as some still imprisoned. Speakers included imprisoned elder Sitawa, one of the main reps during the historic California hunger strikes, and Paul Redd who is now released. Louis Powell's voice was also heard through the reading of his new book, Chronicles of a Prison Dirty War: California Prison Politics.
In the closing of the event, Minister King X pointed out that these elders are "walking dictionaries," and the state is "trying to eradicate our history."