Prisoners Study for Early Release in Brazil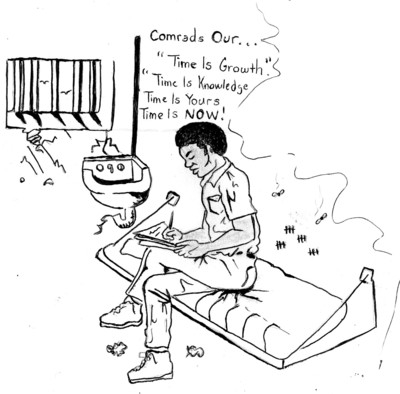 Brazil has instituted a program in its federal prisons to allow prisoners to earn an earlier release by reading certain books and writing reports on them. In a country with a maximum prison sentence of 30 years, they recognize the need to reform people who will be released some day. The program is interesting for us because it's hard to imagine Amerikans accepting such a program, in a country where there is no consideration for what people will do with themselves after a long prison term with no access to educational programs, and prisoners who do achieve higher education get no consideration in parole hearings.
This reform in Brazil seems to be quite limited. Only certain prisoners will be approved to participate, there is a limit to 48 days reduction in your sentence each year, and the list of books is to be determined by the state. Meanwhile, the standards applied for judging the book reports will include grammar, hand-writing and correct punctuation. Which begs the question of what are the prisoners supposed to be learning exactly? Writing skills are useful to succeed in the real world, but being able to use commas correctly is hardly a sign of reform.
In socialist China, before Mao Zedong's death, all prisoners participated in study and it was integral to every prisoner's release. Rather than judging peoples' handwriting, prison workers assessed prisoners' ability to understand why what they did was wrong, and to reform their ways. The Chinese prison system was an anomaly in the history of prisons in its approach to actually reforming people to live lives that did not harm other humyn beings through self-reflection and political study. This type of system will be needed to rehabilitate pro-capitalist Amerikans under the joint dictatorship of the proletariat of the oppressed nations. It is very different from the approaches of isolation and brute force that Amerikans currently use on the oppressed nations.
While it would be a miracle to have in the United $tates today, the Brazil program demonstrates the great limitations of bourgeois reforms of the current system. The books are to be literature, philosophy and science that are recognized as valuable to the bourgeois culture. And the standards for judging the prisoners will be mostly about rote learning. The politics that are behind such a program will determine its outcome. Without a truly socialist state as existed in China during Mao's leadership, we can never have a prison system truly focused on reforming people.