Advance the Struggle for Humyn Rights in CA Prisons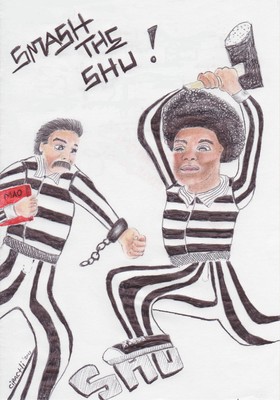 Amendment I of the Bill of Rights of the United States:
"Congress shall make no law respecting an establishment of religion, or prohibiting the free exercise thereof; or abridging the freedom of speech, or of the press; or the right of the people peaceably to assemble, and to petition the Government for a redress of grievances."
After decades of expanding the repression of the U.$. prison system, and despite their effectiveness in misleading and breaking up unity, the control units remain a flashpoint of struggle within U.$. borders. These flashes do take time to develop, due to the excessive restrictions placed on those in these units. So when they do come to light, they emerge from much struggle and are not likely to fizzle out soon.
The struggle against control units is a struggle against torture. It is a struggle against not just the violation of some of the most basic rights that this country was founded on, but also basic humyn needs like sunlight, exercise, mental stimulation and social interaction.
Orders From the Top
As U.$. president, Barack Obama once honored Rosa Parks and the movement of civil disobedience that she symbolized. It was a movement of Black people for basic rights under U.$. imperialism. Yet today the Obama administration gives its explicit approval to the torture and repression going on in a country that imprisons more of its population than any other state in humyn history, and a higher percentage of Blacks than the openly racist Apartheid state of South Africa. U.$. prisons also hold a higher percentage of their prisoners in long-term isolation than any other state that has been documented.
The 2014 federal budget proposed by Obama includes an overall increase in funding for the Federal Bureau of Prisons. More damning, it describes the remodeling of the recently acquired Thomson Correctional Center in Illinois to include an Administrative Maximum Custody (ADX) and Special Management Unit (SMU). ADX "houses the most violent, disruptive, dangerous and escape-prone inmates within the Federal Prison System including those convicted of terrorist activities." "The SMU program is for inmates who have participated in or had a leadership role in geographical group/gang-related activity or those who otherwise present unique security and management concerns." The budget proposal claims that one in six prisoners in maximum security are "gang affiliated." It does not specify how many of the 2100 beds will be SMU or ADX classified.(1) While lawsuits challenge the constitutionality of the treatment people face in these units, and international bodies like the United Nations condemn them as torture, the Obama regime is providing clear leadership to the hundreds of state and local agencies involved in the U.$. prison system on how prisoners are to be treated.
Obama's role is even more clear in Guantanamo Bay, where prisoners are being held as enemy combatants by the military. Prisoners there began another hunger strike on 6 February 2013. Since then the ranks of the strike have grown to over 130 people.(2) Many are being force-fed, and many are skeletal in appearance now.
All this is being done as the United $tates still has the audacity to claim it is promoting freedom around the world, with bombs. As we highlight the connections of the struggle against control units to the struggle against the imperialist system itself, the global importance of this struggle becomes evident. As RAIM pointed out in their recent statement to the international communist movement, failures at building socialism in the past have been connected to a temptation to imitate Amerikan ways. One way the anti-imperialist minority in the First World can strengthen the movements in the Third World is by making it very clear that this is not a model to follow, and that the Amerikan dream is built on torture, genocide, exploitation and injustice.
What to Expect
A Yemeni prisoner held in Guantanamo Bay, who has been on hunger strike since the start had an Op-Ed published in The New York Times, where he wrote,
"I will never forget the first time they passed the feeding tube up my nose. I can't describe how painful it is to be force-fed this way. As it was thrust in, it made me feel like throwing up. I wanted to vomit, but I couldn't. There was agony in my chest, throat and stomach. I had never experienced such pain before. I would not wish this cruel punishment upon anyone.

"I am still being force-fed. Two times a day they tie me to a chair in my cell. My arms, legs and head are strapped down. I never know when they will come. Sometimes they come during the night, as late as 11 p.m., when I'm sleeping.

"There are so many of us on hunger strike now that there aren't enough qualified medical staff members to carry out the force-feedings; nothing is happening at regular intervals. They are feeding people around the clock just to keep up."(3)
Another prisoner who has since been released from Guantanamo Bay after a 438-day hunger strike reported how the force feeding was brutal and they did not clean the tubes between feeding people. The prisoners asked military personnel why they were doing this:
"They told us, 'We want you to break your hunger strike.' They tell us directly like that. They ask us to break our hunger strike. They said, 'We'll never deal with you as the detainees until you break your hunger strike.'"(2)
Comrades from NCTT-Corcoran-SHU (a New Afrikan think tank) have reported that staff at Corcoran State Prison have been announcing similar plans to prisoners in California, indicating that they will not be providing proper medical care and attention to strikers in their prison in the future. These threats, which violate state policies, will also result in undercounting strikers.(4) It is possible that information will not flow as freely this time around, meaning outside supporters will have little information to go on until the struggle is over. This reinforces the need for strong unity among those inside and the ability to act independent of outside support.
We've also received word of plans to move prisoners and staff around strategically over the next couple months. In particular, Special Needs Yard prisoners are reportedly being moved to other facilities and given work assignments. Prison staff apparently thinks this will dilute the spirit of prisoners. However, depending on the balance of forces, this could go either way. We know there are strong supporters of the prisoners' rights movement in SNY already, and we hope these coming months provide the conditions to further break down the divisions within the imprisoned lumpen class. While we know that staff regularly bribe prisoners to create disruptions among the population, the mass support for the interests of all prisoners will make it hard for these bribed prisoners to create disruptions openly in the coming months, hopefully longer.
There have been positive reports of prisoners being moved to areas they once could not go, as a result of the agreement to end hostilities that has been in place for over 6 months now, which was endorsed by the largest organizations in California prisons. In particular, positive reports have come from Pelican Bay and Corcoran, where two of the main SHUs are located. San Quentin death row has also reached out to share ideas to build their own prisoner rights campaign over the coming months.
We have received some letters about ideas on tactics for advancing the prisoner rights movement in California. We've printed some in ULK and shared others with United Struggle from Within members in California. But in most cases it is impossible for us to have a full understanding of the balance of forces, and thus we are not in a position to determine which tactics are best. In addition, conditions vary so much between facilities. Clearly the comrades in Pelican Bay and Corcoran took the lead in struggling to shut down the SHU and they will likely continue to do so. What we can say for sure is that July 8 will be an opportunity to have your voice amplified by acting in solidarity with all across the state, and many in other states as well. To determine how you can best do this, you must think through and balance the effectiveness of your tactics with the risks involved.
Where we can provide leadership is in our ideological alignment. Some lists of goals that are circulating include things that are not humyn needs. These demands may be subjectively popular among the prison masses, but will greatly damage support from the outside and internationally by trivializing the struggle for basic rights. As we presented in ULK 31, below are the strategic goals that, if attained, we think would represent the establishment of basic humyn rights for prisoners (note a small change to point 1.f.).
An end to torture of all prisoners, including an end to the use of Security Housing Units (SHU) as long-term isolation prisons.

Basic humyn needs are centered around 1) healthy food and water, 2) fresh air and exercise, 3) clothes and shelter from the elements and 4) social interactions and community with other humyns. It is the SHU's failure to provide for these basic needs that have led people around the world to condemn long-term isolation as torture. Therefore we demand that the following minimum standards be met for all prisoners:


no prisoner should be held in Security Housing Units for longer than 30 days. Rehouse all prisoners currently in SHU to mainline facilities.

interaction with other prisoners every day

time spent outdoors with space and basic equipment for exercise every day

healthy food and clean water every day

proper clothing and climate control

an end to the use of and threat of violence by staff against prisoners who have not made any physical threat to others

access to phone calls and contact visits with family at least once a week

timely and proper health care

ability to engage in productive activities, including correspondence courses and hobby crafts

a meaningful way to grieve any abuses or denial of the above basic rights




Freedom of association.

As social beings, people in prison will always develop relationships with other prisoners. We believe positive and productive relationships should be encouraged. Currently the CDCR makes it a crime punishable by torture (SHU) to affiliate with certain individuals or organizations. This is contrary to the judiciary's interpretation of the First Amendment of the U.S. Constitution. We demand that prisoners of the state of California only be punished for violating the law, and that there be:


no punishment based on what books one reads or has in their possession

no punishment for jailhouse lawyering for oneself or for others, for filing grievances or for any challenges to conditions of confinement through legal means

no punishment for what outside organizations one belongs to or corresponds with

no punishment for communicating with other prisoners if not breaking the law

no punishment for tattoos

no punishment for what individuals of the same race/nation/organizational affiliation do unless you as an individual were involved in violating a rule or the law, i.e. no group punishment

no punishment for affiliation with a gang, security threat group, or other organization - in other words a complete end to the gang validation system that punishes people (currently puts people in the SHU for an indeterminate amount of time) based on their affiliation and/or ideology without having broken any rules or laws